Germfree & Ardmac
Collaboration
In 2019 Ardmac and Germfree announced their partnership to bring Germfree bioGO® Mobile and Modular Cleanroom Buildings to the European markets.
Germfree provides a fully adaptable single or multiple-module cleanroom solution. These versatile offsite-built facilities support bioproduction for pre-clinical or clinical stage materials. Once scale up or scale out needs are identified, additional modules can be added seamlessly.
Additionally, Germfree provides mobile and modular laboratories that are built to the strictest Biological Safety Levels (BSL-2, BSL-2+, and BSL-3). Our biocontainment facilities may incorporate both cleanroom and biocontainment space. Germfree also has extensive experience in the design and manufacturing of facilities for viral vector research and vaccine production.
Germfree mobile solutions are rapidly deployable to address immediate needs while providing the same cleanroom and biocontainment capabilities as fixed-site modules. Because of their quick availability, bioGO® Mobile Facilities can be utilized during process development and early stage procedures while the design/build of a full-scale bioGO Cleanroom Building is underway.
Established in 1977 and Headquartered in Dublin, Ireland, Ardmac is an international construction company that delivers high value workspaces and is a leading provider of cleanroom environments in Europe.
Germfree, established in 1962 and Headquartered in Ormond Beach, Florida, U.S. is a global company creating environments that serve life science innovation and advanced global health.
DELIVERING OPERATIONAL READINESS FASTER
– Internationally accredited
construction company
– 40+ yrs experience in delivering high
value workspaces and technical
environments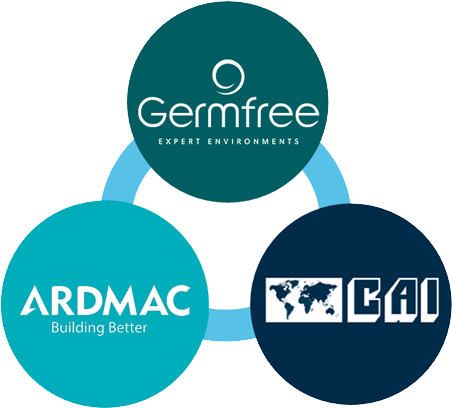 – Leader in GMP and Biocontainment Solutions
– 50+ yrs Serving Life Sciences
– Global Manufacturing Base
– Trusted Operational Readiness
Partner
– Leader in Quality Risk Managment
– Global Service Presence
– Visit CAI >>
Traditional delivery model (sequential & disjointed):

Parallel & integrated delivery model for improved Operational Readiness delivered by Partners Germfree, Ardmac and CAI: